Club - Clay Cave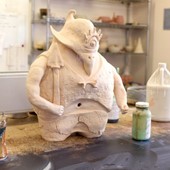 The Clay Cave is an open studio for ceramics designed for students and faculty who want the opportunity to learn ceramics through different methods of using clay. No experience is required to join! There will be a lesson plan with projects that set members of the club up with fundamentals that are key to being a ceramicist.
A full range of different projects will provide members a foundation in which they will be able to pursue whatever project seems interesting to them, whether that be hand-building pots, throwing pots on the wheel, sculpting, or even the chemistry behind glazing pots.
This is an experience beneficial to students of all groups because art uses a completely different part of the brain, allowing for a change in headspace and a break from an otherwise demanding and stressful workday. With this new productive hobby, the Clay Cave will certainly be your home away from home! The studio is meant to be a safe space and a place where there are no wrong answers or projects. Finally, at the end of each semester, we will hold an open ceramics gallery in which individuals can display their craftsmanship.