When I arrived at Northeastern, we developed a clear goal for Athletics that has served as the benchmark for our high-standard of academic and competitive achievement; to UNLEASH OUR FULL POTENTIAL TO GARNER NATIONAL RECOGNITION and match the unprecedented trajectory of the university. I can say, without hesitation, that we have progressed in our mission and continue our ascent to national competitive excellence.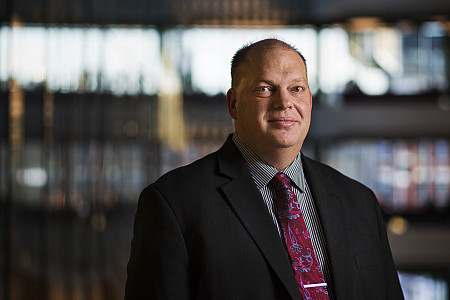 We celebrated the most successful season in Northeastern Athletics history in 2017-18, only to match and exceed those accomplishments during the 2018-19 season. In doing so, we have elevated our standard of success both on and off the playing field and our expectations are even greater entering 2019-20.
 You play a pivotal role and own a piece of the achievements of our program, and the successes would not be possible without your generous support. As we embark on a new season, our focus remains on the IMPACT you create within our athletic department every day, which is the theme of the annual fund this year. Thus, I ENCOURAGE YOU TO MAKE A GIFT TO THE HOWLIN' HUSKIES FUND. By supporting our student-athletes, you will witness the incredible impact your gift makes as they continue to further enhance the story and future of Northeastern Athletics.
 Go Huskies!
 Jeff Konya. Director of Athletics and Recreation  
                                                       HOWLIN' HUSKY MEMBERSHIP LEVELS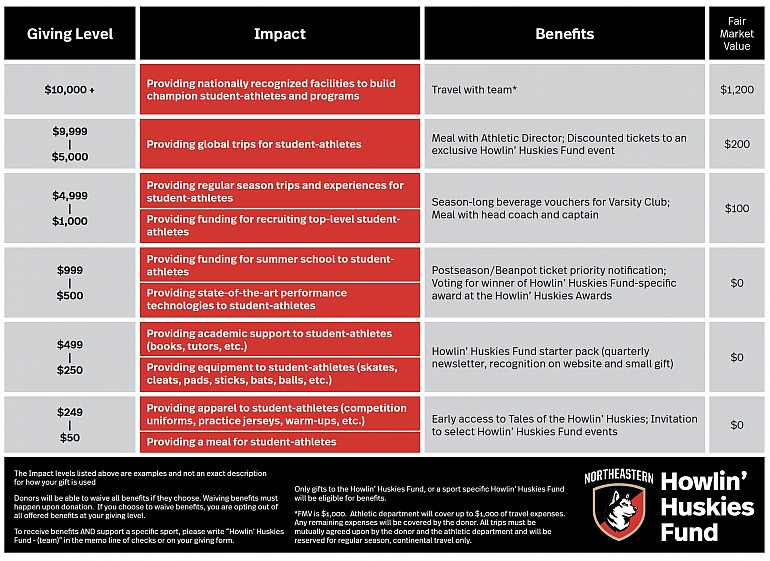 For information on the Howlin' Huskies Fund or supporting Northeastern Athletics, please contact Nicole Girard at 617-373-2523 or n.girard@northeastern.edu 
PLEASE INDICATE IN THE "SPECIAL INSTRUCTIONS" BOX ON THE GIVING FORM IF YOU WOULD LIKE YOUR GIFT TO SUPPORT A SPECIFIC TEAM, OR IF YOU WISH TO FORGO THE BENEFITS ASSOCIATED WITH HOWLIN' HUSKIES MEMBERSHIP.