I came to Northeastern because I believe it is a university with limitless potential. As I eagerly embark on my first full season at the helm, I look forward to working with the talented and committed University Senior Leadership Team, coaches, staff, student-athletes, and you, the supporters of Northeastern Athletics.  We remain committed to a high standard of student-athlete achievement, which has been a hallmark of this department,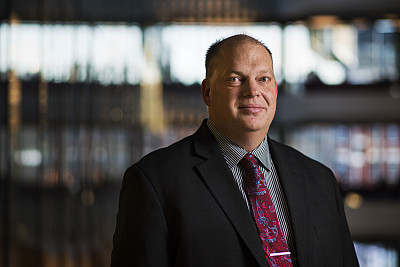 and we will unleash our full potential to garner national recognition and match the unprecedentedtrajectory of the university.
this year, we were able to achieve historic success on and off the playing field, resulting in the most successful year in department history—which would not have been possible without your support. We are confident that we will continue Northeastern's pursuit of excellence and make our alumni, donors, parents, and fans proud.
To that end, I am pleased to introduce the Howlin' Huskies Fund. This new athletics annual fund is our way to provide a fully integrated program of support to enhance the opportunities of our student-athletes to continue our ascent toward national competitive excellence.  We want to win National Championships and your support of the fund is vital to achieveing our goal.  We have articulated our collective aspirations through the Athletics 2025 Vision which includes:  providing a DISTINCTIVE STUDENT EXPERIENCE, creating a CULTURE OF EXCELLENCE, unleashing OPPORTUNITIES TO ENGAGE with internal and external stakeholders, and developing PLATFORMS FOR SUCCESS for our teams through efficient and creative operational efficiency..
On behalf of our 351 student-athletes, 14 head coaches, and the 71 other members of Northeastern Athletics' Administrative team, I would like to invite you to consider making a gift to the Howlin' Huskies Fund in 2018–19. With your support, our future is bright, and we look forward to celebrating many academic milestones and athletic championships with our community.
 Go Huskies!
 Jeff Konya, Director of Athletics and Recreation 
                                                       HOWLIN' HUSKY MEMBERSHIP LEVELS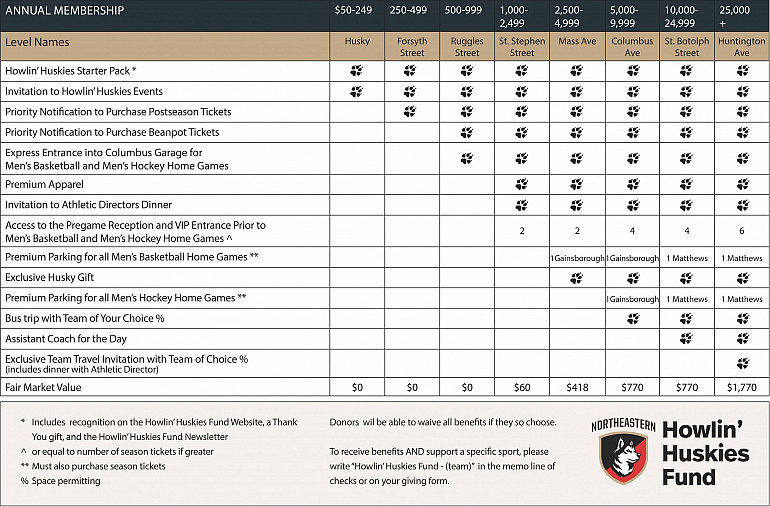 The fair market value (FMV)of benefits must be deducted from the gift amount to determine the charitable amount eligible for income tax deduction.
Donors have the option to forfeit their benefits in order to receive full taxable donation. to do so, please contact nicole girard at 617-373-2523 prior to making your gift.
Gifts or grants from the following sources may NOT satisfy membership level requirements:
donor advised funds, private foundations, other charitable organizations, employer matching gift programs
and individual retirement accounts (IRA) charitable rollovers.