The 2020 - 2021 Northeastern Athletics season was yet another amazing year filled with record-breaking performances and historical events.
The Huskies completed their most successful year in department history, earning a seventh-place finish in the Learfield Directors' Cup standings for Division I-AAA (non-football) with a school record 151 points (story here). The finish is fueled by a national championship run by the women's hockey team, and NCAA postseason appearances by baseball, men's track and field and women's rowing earning a 19th-place finish at the NCAA Championships.

Academically, Northeastern student-athletes had a banner year. The Huskies recorded the highest department grade point average during a full semester of competition with a 3.405 GPA in the spring and posted the highest fall GPA at 3.417. For the first time in school history, every team achieved a 3.0 cumulative GPA for the entire academic calendar (fall and spring) and now have posted a department GPA of 3.0 or higher for 27 consecutive semesters.
View the story here.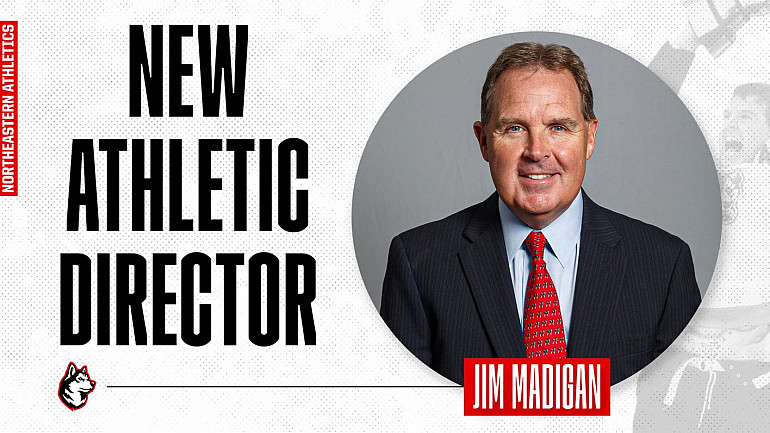 On June 17th, Northeastern Athletics named Jim Madigan, a hockey legend for the Huskies as a coach and player, to serve as its 11th Director of Athletics and Recreation. "I'm humbled and honored to be our next athletic director," says Madigan. "I look at this role as a culmination of all my experiences here on the Northeastern campus.
Prior to leading the athletics department, Madigan was named Northeastern men's hockey's 10th head coach in program history on July 26, 2011, and during his tenure, he helped lead Northeastern to back-to-back-to-back Beanpot championships, two Hockey East titles, three NCAA appearances, the first Hobey Baker Award winner and Mike Richter Award winner in program history and seen 20 of his players drafted by NHL teams.
Madigan brings more than 30 years of college and professional athletics experience to his post on Huntington Avenue. He played for the Huskies from 1981 to 1985 and was an assistant coach at the university from 1986 to 1993. He served as a professional scout for the New York Islanders and Pittsburgh Penguins from 1993 to 2011, winning a Stanley Cup in 2009.
Northeastern does athletics the right way, "We're competitive, we want to excel in everything we do. But it's not at the expense of making sure our student-athletes challenge themselves and are motivated academically and socially to be part of the community on campus and in the Greater Boston area."
 For information on supporting Northeastern Athletics, please contact Nicole Girard at 617-373-2523 or n.girard@northeastern.edu 
To support all student-athletes, click on the Howlin' Huskies Fund box below. To support your favorite team, click here.