The Northeastern Loyalty Society (NLS) recognizes consistent alumni donors whose annual gifts serve as the foundation for the university's growth and educational mission.
Your loyal annual support helps to ensure Northeastern's position as a global university system that empowers learning and discovery on a worldwide scale.
The Northeastern Loyalty Society (NLS) honors undergraduate alumni who have given to Northeastern for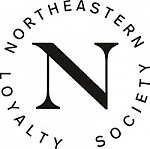 two or more years in a row.
NLS members set a philanthropic example for fellow alumni and play a vital role in the university's continued success in experiential learning and use-inspired research, built on a tradition of global engagement.
Membership
Gifts of any amount, to any area of Northeastern, count toward your NLS membership. Consecutive years of giving are counted by fiscal year, which runs from July 1 to June 30. Undergraduate alumni donors must give for a minimum of two consecutive years to qualify.
 Qualifying Levels
There are three qualifying levels for the Northeastern Loyalty Society:
2-4 years of consecutive giving
5-19 years of consecutive giving
20+ years of consecutive giving
Member Courtesies
Northeastern Loyalty Society members receive courtesies including membership level recognition, special communications, and exclusive discounts and giveaways. Annual donors of $25 or more will also receive invitations to members-only regional receptions and events.  View Member Courtesies