Message from Dean Carla Brodley
Support from alumni, parents and friends is essential to the Khoury College of Computer Sciences' mission to provide students with the knowledge and experience needed to shape future leaders in technology. 
This year our funding priorities include increasing scholarship and financial aid awards to attract more women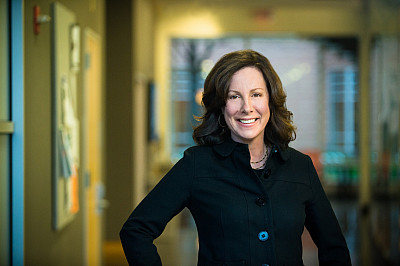 and diverse students to Computer Sciences from both outside the university and inside via engaging programs such as meaningful minors and combined majors.
We are also very excited about the opening of our new Cybersecurity and Privacy Institute – its mission to safeguard critical technology.  The Institute welcomes philanthropic support to accelerate discovery.
As always, our students and faculty stretch the boundaries of innovation and creativity.  The Finkelstein Innovation Fund provides them with the tools and resources to explore new ideas and enhance the learning experience.  Gifts to this fund help offset travel funds for students to attend national conference, the development of interdisciplinary courses, and much more.
Your gifts play a part in innovative ideas that are moving computer, data, and information science – and the world – forward.  Thank you for your support.
 Dean Carla Brodley