A Message from Dean Elizabeth Mynatt
Donations from our alumni, parents, and friends are essential in supporting the Khoury College of Computer Sciences' mission of CS for Everyone. Khoury provides students with the knowledge and industry experience necessary to become future leaders in technology. Your generous support helps create new diversity, equity, accessibility, and inclusion pathways into computer science – at every degree level and even before college through programs like SMASH.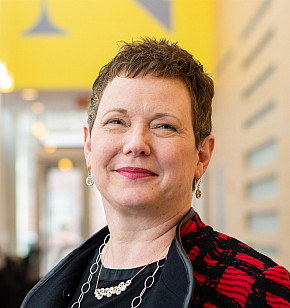 Your support is essential for scholarships that provide opportunities for students in need, allowing them to enroll in one of our 42 interdisciplinary majors, or our Align master's program on campuses across the country. Your support to the Khoury Dean's Fund provides opportunities for students to engage in exceptional research experiences or attend a professional conference. You can also choose to directly support one of the many student clubs like Code 4 Community, the Computer Science Mentoring Organization (COSMO), and the Multi-Diverse Unified Leaders in Technology (MULTI) Club, among others.
The generosity of benefactors like you have funded the new Doreen Hodgkin Student Emergency Fund that provides emergency financial support for those who need assistance due to unforeseen circumstances.
Your gifts play an integral part in innovative ideas that are make our "computer science for everyone" mission a reality. Thank you for joining us in our commitment to supporting our students – your gifts are an essential part of our journey towards achieving our mission and make a lasting impact on the future of computing and the technology leaders of tomorrow.
Gratefully,
Dean Elizabeth Mynatt