Sorority - Sigma Psi Zeta / SAPPHIRES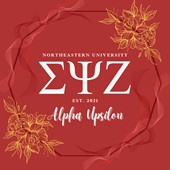 Sigma Psi Zeta is a progressive multicultural sorority. Established on March 23, 1994 at the University at Albany, our SYZters have worked together with the goal of empowering women of color and combating violence against women in its varied forms.
We are the Alpha Upsilon Charter of Sigma Psi Zeta Sorority, Inc. at Northeastern University. We chartered on March 21st, 2021, becoming the 40th official membership of Sigma Psi Zeta.