Club - Young Democratic Socialists of America at Northeastern University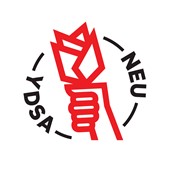 Our mission is to educate and organize students and young people to play a helpful and principled role in the movement for social and economic justice in the Northeastern University and local communities.
Within and throughout this struggle both nationally and locally, we will articulate and defend the idea that true human liberation is impossible under capitalism. We seek social change which extends democracy into all aspects of life – social, political and economic. We accept members of broad ideologies while never sacrificing our values.
We believe in the universality of social programs, the collective ownership of the means of production, and our struggle for justice will not end until every human can live a just life. Our vision of socialism is profoundly democratic, feminist, and anti-racist.