Ready All, Row!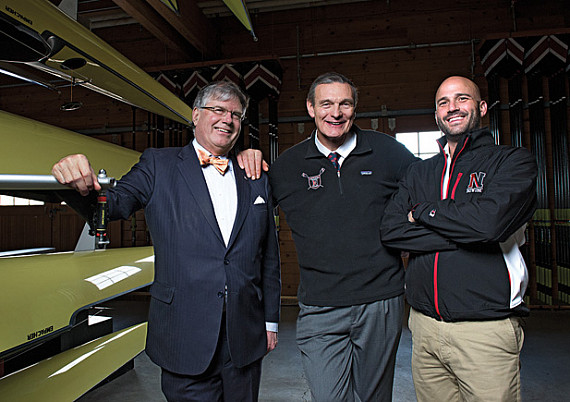 In rowing, the oarsman in the seat closest to the stern is known as the stroke. More than a top-notch athlete, the stroke is a human metronome, the one who sets the team's cadence both in and out of the water.
"It's a key leadership role, and a tactical one as well," explains former Northeastern rower Christopher Meehan, DMSB'75. The stroke sets the pace and calls the rowers' moves, deciding when to flutter, when to power 10, and when to sprint.
As a former stroke on the university's storied squads of the early 1970s, Meehan describes rowing as "a total team effort, one that builds a shared sense of responsibility and discipline." Some of his fondest memories hinge on races won and lost, he says, "and hundreds of other Northeastern rowers feel the same nostalgia and pride."
To celebrate the 50th anniversary of men's rowing, Meehan and fellow rowers past and present plan an April reunion regatta on the Charles River in Boston. Their goal: to raise $1 million for new rowing shells, training equipment, and technology.
Since Meehan and his wife, Cynthia, DMSB'86, pledged a $100,000 gift in 2014, others have followed their lead. The funds, and the university's $5 million renovation of the Henderson Boathouse, could help the current rowing team repeat its 2014 and 2013 top-five national championship finishes.
"We all had a hand in making Northeastern rowing what it is today," Meehan says. "Let's get excited about the next 50 years."
The 2015 milestone commemorates an unexpected Cinderella story. In 1965, a fledgling team, with coach G. Ernest Arlett at the helm, defeated 33 of 34 competitors and earned a berth at England's prestigious Henley Royal Regatta. Husky crews began turning heads. In 1988, coach Walter S. "Buzz" Congram's varsity shell posted a first-place finish at the Intercollegiate Rowing Association's Championship Regatta.
Today's squad, coached by John Pojednic, aspires to become the number-one force in Division I. With honors that include a gold medal for the second varsity eight boat at the 2014 Eastern Sprints—the team's first gold in 36 years—this crew is prepared to pull past the competition.