A council of dedicated and engaged parents setting a leadership example, campus-wide.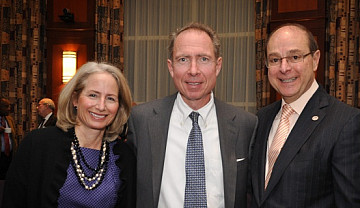 The Parents Leadership Council (PLC) serves as a resource and a means of engagement for the Northeastern parent community. This dedicated group of parents sets a leadership example through its philanthropic support of and advocacy for Northeastern and its students.
The PLC enhances the experience of students and parents through individual outreach,  identification of cooperative education opportunities, and fundraising efforts. Members of the PLC also serve as regional contacts to parents, offering advice and guidance to families new to Northeastern.
PLC 
Subcommittees
Communications: manages parent-specific communications from the PLC, both mass messaging and individual outreach.
Co-op: manages parent involvement in enhancing Northeastern's network of cooperative learning, internship, and other career opportunities. 
U.S. Engagement: manages PLC and general parent involvement at university events on and off campus.
International Engagement: manages the activities of the global parent community.
Parents of Alumni: manages council efforts with parents whose student(s) have graduated from Northeastern University, specifically through outreach related to stewardship, solicitation, and event communications.
Athletics and Club Sports: Helps manage parent-specific communications among the Northeastern community and PLC members. The committee helps promote and increase the visibility of sporting events to families (both varsity and club sports) throughout the year.
PLC Member Offerings:
Insight about Northeastern's strategic direction, services, policies, and practices directly from senior university leaders
Monthly newsletters
Invitations and reserved seating at select university events
Recognition for philanthropic leadership and support for the university
Access to the Parents Philanthropy Team as a university resource