Journalism is not a spectator sport.
 Traveling abroad to report is experiential learning at its best. Students will learn how to dig deep, within themselves but also into the culture of the country, to produce the kind of journalism that can make you cry, quicken your pulse, or make your heart sing.
Panama is an ideal place for Northeastern students to practice this form of journalism. The stories there - about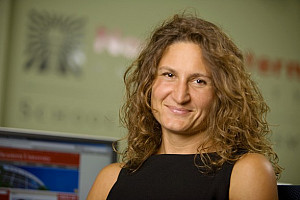 Professor Carlene Hempelhow climate change is impacting the rain forests and the islands of San Blas, about the disparities in wealth across the country, about issues of deforestation and resulting attempts at replenishing the forests, about Panama's rich and robust arts and culture scene - are just some of the areas on which we plan to focus. Last year, during a similar trip to Cuba, the participating students produced a magazine to show their work. Past student work has also been published in The Washington Post, The GroundTruth Project, and nine students were awarded student Emmy Awards.
The experience to Panama will be life-changing and unforgettable. The trip will be eye-opening, sometimes-defeating, but an always-invigorating experience directly in the field. Students will be pushed to go beyond what any textbook or PowerPoint or lecture could teach them. One of my students from last year's program gave the following feedback: "This is literally the hardest course I have ever taken, but in the most rewarding way possible. I would not change a thing about it. I was forced to create pieces of work that I could proudly share with anyone." 
All donations go directly to offsetting student cost to participate in the trip during spring break 2020, and will cover essentials like lodging, food, and travel. It is my hope that this experience to Panama will be accessible to all interested students, regardless of their ability to pay.
MAKE A GIFT IN SUPPORT OF THE PANAMA JOURNALISM TRIP
Please note in the "Special Instructions" box at the bottom of the donation form that your gift is intended for the Panama Student Journalism Trip.