Club - American Lung Cancer Screening Initiative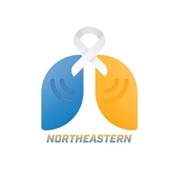 The Northeastern American Lung Cancer Screening Initiative (ALCSI; https://www.alcsi.org/), is a branch of the national nonprofit organization of over 200 doctors and students working to raise awareness of lung cancer and lung cancer screening in communities around the country.
Lung cancer is the leading cause of cancer death in the United States and the world, causing more deaths than breast, prostate, and colon cancers combined. While early detection through lung cancer screening by low-dose computed tomography (CT) significantly reduces lung cancer mortality by one-third, only 5.7% of high-risk individuals are currently getting screened.
In order to increase the lung cancer screening rate and save lives, ALCSI is working with students to help them start ALCSI chapters/clubs at their universities to educate students on campus about lung cancer through events during the school year. ALCSI has 25 college chapters across the U.S., and our teams have given over 100 presentations and reached over 10,000 people.