The Husky Cornerstone Club recognizes our committed and loyal donors whose annual gifts serve as the foundation for the university's growth.
Consistent, annual giving allows you to play an important role in the financial health of the university and make a powerful statement about how much you value a Northeastern education.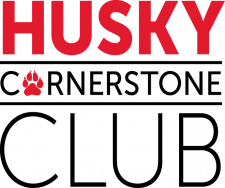 Members of the Husky Cornerstone Club also set a philanthropic example to fellow alumni, and play an integral role in ensuring the university's continued success as a global, experiential, research university built on a tradition of engagement with the world.
Joining is easy! Gifts of any amount, to any area of Northeastern, given for two or more consecutive fiscal years count toward membership for the Husky Cornerstone Club. Your membership is sustained as long as gifts are made to the university every fiscal year (July 1 to June 30) without interruption.
HCC Members Enjoy:
 Exclusive discounts and giveaways
Access to special events in Boston and across the country, including Red Sox games, cocktail gatherings to meet fellow HCC members, and select university events
An annual decal celebrating their membership