Giving Day is a 24-hour philanthropic initiative during which the Northeastern community of alumni, students, parents, employees and friends come together to support Northeastern.
GIVING DAY 2022
On April 14, 2022 we will bring together Northeastern alumni, students, parents, employees, and friends from around the world, to celebrate Giving Day—the university's largest and only 24-hour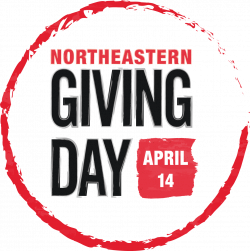 philanthropic event. Giving Day donations enrich the lives of our students and 100% of gifts go to the faculty, teams, student organizations, and academic programs that make their Northeastern experience unique.
Make a gift today so we can ensure the Northeastern community continues to thrive on its special day and in the year ahead.
For more information and to make your Giving Day gift today visit givingday.northeastern.edu